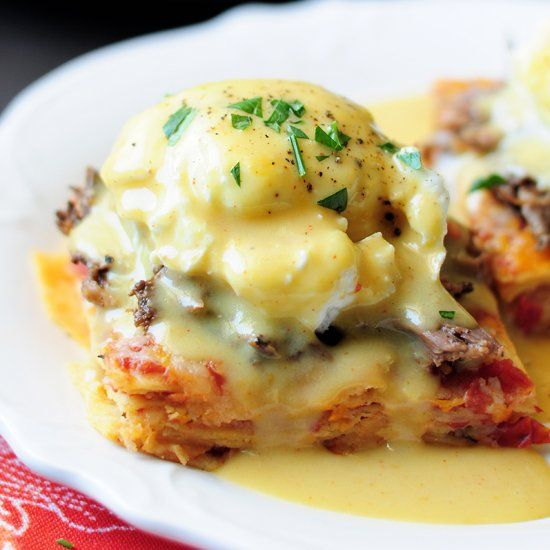 Eggs Benedict with Laxson Barbacoa
Prep Time: 20 minutes, Cook Time: 30 minutes, Total Time: 50 minutes
INGREDIENTS
For the Chilaquiles Base:
1 (14.5-oz) can fire roasted diced tomato with green chili
12 6-inch corn tortillas
1 cup Mexican four cheese blend
For the Green Chili Hollandaise:
2 egg yolks
1 teaspoon lemon juice
1/2 teaspoon kosher salt
1 pinch cayenne pepper
1/4 cup melted butter, warm
1 cup green chili sauce
For the Eggs Benedict:
4 eggs, poached
2 cups Laxson beef barbacoa, warm
Freshly ground pepper
Chopped fresh parsley for garnishing
DIRECTIONS
Preheat oven to 400°F.
Place fire roasted diced tomatoes with green chili in a food processor and pulse chop.
Spray a 8X10″ baking sheet with cooking oil and line it with 4 corn tortillas.
Spread 1/3 of the tomatoes and chili mixture on the tortillas and add 1/3 cup cheese. Repeat the process until all the chilaquiles base ingredients are used.
Bake for 10 minutes and let cool.
 Start making the Hollandaise sauce by combining the egg yolks, lemon juice, salt and cayenne pepper. Whisk over double boiler until doubled in volume.
Remove from heat and slowly drizzle the warm melted butter in as you whisk until all butter has been incorporated in the sauce.
Keep the sauce in a warm place at approximately 150°F. Add the warm green chili sauce and stir.
Poach 4 eggs.
Cut the chilaquiles base into 4 circles with a biscuit cutter. Prepare two serving plates and place two pieces of the base on each plate.
Top each base with 1/2 cup Laxson barbacoa, followed by a poached egg. Drizzle with green chili hollandaise.
Sprinkle with freshly ground pepper and chopped fresh parsley. Serve with pico de gallo.